SolaTone
From HCE Wiki - The Human Cognitive Enhancement Wiki

SolaTone is an electrolarynx device manufactured by an American speech aid electronics company Griffin Laboratories, Inc. These devices are speech technologies aimed towards patients after total laryngectomy who lost their natural ability to produce voice.[1]
Main characteristics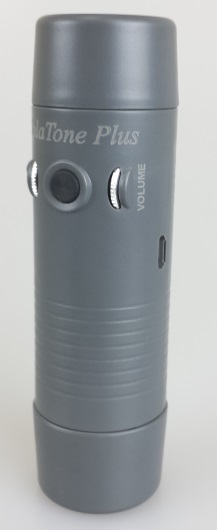 SolaTone is a cylindrically shaped small electrolarynx designed to be held and operated with one hand. It features one on/off button and a thumb wheel to control the volume. It is powered by one 9 V NiMH rechargeable battery (one included with the device) or any disposable batteries, either one 9 V or two AA batteries.[1] The price of the device ranges from 450[2] to 590 USD[3], depending on the dealer.
SolaTone Plus is similar to SolaTone but also features a second thumb wheel to control pitch of the voice and has a USB connector through which the device's battery can be charged.[4]
Purpose
The TruTone series of devices is directed towards laryngectomees that have lost their ability to produce speech. The usage of an electrolarynx allows them to communicate in a quick and natural manner without resorting to other means such as pen and paper.
Company & People
The device is manufactured by an American company Griffin Laboratories, Inc. The company is based in Temecula, California.[5][6]
Important Dates
1995 - Griffin Laboraries, Inc. established.[7]
The company does not inform about any other important dates that are relevant to this particular device.
Enhancement/Therapy/Treatment
Treatment - SolaTone is a device that replaces the speech producing functions of a larynx. Electrolarynxes are meant to return the ability to communicate by voice for laryngectomy patients.
Ethical & Health Issues
There are no ethical or health issues connected to this particular device.
For more general issues connected with smartglasses, please see the Electrolarynx synopsis.
Public & Media Impact and Presentation
We did not find any extensive reviews of the device although two Amazon user reviews[8] do exist. One states that the device is "great" and that they would recommend it to others[9], the other is negative saying that the user is "not too happy" with it.[10]
Public Policy
The company does not appear to be listed in the the U.S. Food and Drug Administration medical devices catalogue.
Related Technologies, Projects or Scientific Research
We found no research or projects relevant to this device specifically.
For more information about this type of devices, please see the Electrolarynx synopsis.
References