Apple watch
From HCE Wiki - The Human Cognitive Enhancement Wiki
Apple Watch
Type
Limb - mounted
Developer
Apple Inc.
Announced
September, 2014[1]
Released
Developers:
Consumers: April 10,2015[2]
Price
349 USD [3]
Operating system
WatchOS
Sensors
Accelerometer, Ambient light, Gyroscope, Heart rate
Weight
62 g
Controls
Single physical button, Touchscreen
Data available
Good
Risk factor
Low
Standalone[4]
https://www.apple.com
The Apple Watch is the newest and the first wearable device developed by Apple Inc. The project began in the year 2011 and the Apple Watch was launched on April 24, 2015. The pre - orders were available on April 10, 2015.The Apple Watch comes in two sizes - 38 mm and 42 mm and in 3 collections - the aluminum Apple Watch Sport, the stainless steel Apple Watch and the gold Apple Watch Edition. The Apple Watches Sport are available in 12 models and price ranges between $349 and $399.[5] The Apple Watches are available in 20 models and the price ranges from $549 to $1099. [3]The Apple Watches Edition are available in 8 models which are the most expensive. The prices range between $10 000 to $17 000. [6]The Watches are made from variety of distinctive materials and the bands are changeable. The Watch can be wirelessly connected from iPhone 5 up to iPhone 6 s. The Watch is not only a watch. It is a device that helps us to be always connected with our friends and up to date with our work. [7]
Main characteristics
The Apple watch isn't just smaller and wearable iPhone, but it is also a device, that can do your payments without having have to use your credit cards every time when payment needed, it can measure heart rate and it communicates with you and your iPhone. The Apple Watch is made in two sizes and three collections. Each of them has different package. The Sport comes in a long rectangular box. The Watch comes in a white square box with a white plastic rounded square container. And the Edition comes in a darker, more elaborate version of the same. Regardless of collection, all include a watch case, a paired band, a USB cable with a magnetic charger on the end, and an iPhone-style AC adapter.[8]
Apple is using three different materials for the cases: 7000-Series aluminum for the Sport, 316L stainless steel for the Watch, and 18-karat gold for the Edition. For the Edition are conducted in silver and anodized space gray, silver and diamond, and yellow and rose gold respectively. The screens are Ion-X (ion exchange) glass for the Sport and sapphire for the Watch and Edition. The backs are a composite material for the Sport with hard-coated optical polymer sensor lenses, and zirconia ceramics for the Watch and Edition, with sapphire lenses. There is possibility to choose in the big quantity of bands. The 38mm Apple Watch has a display size of 340-by-272 pixels.The 42mm Apple Watch has a display size of 390-by-312 pixels. The display is from Retina - OLED (organic light-emitting diodes), and that's a first for Apple. There are two physical buttons for the control on the side: button and the Digital Crown with that is possibility to zoom the screen or look for in apps. Also there is the way to use the voice navigation Siri. It is known from the iPhone. To answer the call is the possibility use the built-in speaker and microphone. The apps are the same like in the iPhone. The response for email or message it could be faster than from the phone. The adjustment of the notification for any apps is by the discretion to don't miss any calls or message. Apple Watch measures all the ways of move, such as walking or taking the stairs. It even keeps track of when person stands up and encourages to keep moving.[8] The charging is on the same way like MacBook Air or Macbook Pro. Apple set battery life expectations at up to 48 hours of time display, 6.5 hours of audio playback, 6.5 hours of workout monitoring, and 3 hours of talk time. There's also a Power Reserve mode, designed to last up to 72 hours, that shuts down almost all processes except those required to keep and display time. For the fully charged is necessary about 2,5 hours. The Watch is waterproof.
Purpose
The Apple Watch is a first personal wearable device which delivers important information when people need them. It helps to perform everyday tasks easily and it offers possibility to be connected with people in no time. The Apple Watch can facilitate communication. It serves as a miniature substitution to your phone. [9]
Company & People
Analyst: Daniel Matte
Principal Analyst: Chris Jones
Founders: Jony Ive, Marc Newson [10]
Apple CEO: Tim Cook [11]
Survey research director: Andy Golub
Senior vice president of Operations: Jeff Williams
Apple Senior Vice President of Worldwide Marketing: Phil Schiller [12]
Apple Human Interface Chief: Alan Dye [10]
Apple Senior Vice President of Retail and Online Sales: Angela Ahrendts [10]
VP Technology: Kevin Lynch [12]
Important Dates
Project began in 2011.
Pre order was available for these countries;UK, Australia, Canada, China, France, Germany, Hong Kong, Japan and the US on April 10, 2015. [13]
The sale started on April 24, 2015.[13]
The Special Apple Event held on September 9, 2015 in San Francisco. [14]
Ethical Issues
One of the most concerning issues for Apple is their alleged connection with illegal minerals resources. According to the article which was released by the company Apple in February 2015 their mineral resources are legal.[15] These minerals include tin used in circuit boards; tungsten, found in light bulbs; and tantalum used to regulate the flow of electricity and gold often used as an electricity conductor are used for manufacture of Apple products. The company had to prove that the minerals did not come from the war-torn Democratic Republic of the Congo or Central Africa.[16] In February 2015 They promised to do so.
Among other significant ethical issues concern problem for other companies. At the moment of Apple watch launch other companies may have had plans to start smart watch production, however due to the realized idea of Apple their plans couldn't realize and they loose money. [17]
Apple Watch offers the possibility to use them as credit cards in the stores, if this trend becomes widespread there could be impact on the companies who manufacture plastic bank cards. These two ethical issues may apply to any other company, but while Apple is such a strong trademark it seems that its impact is much more devastating on its competition than in other cases.
Apple Watch offers us spread wellness and healthy apps which unfortunately may have negative impact. People can become narcissistic and too self involved sometimes even hypochondriac. People stop focusing on the outside world and on social contacts others than through the electronic devices. [18]
Apple collects all information after you create Apple ID such as phone number, email address, contact preferences, and credit card information which they claim they use for various reasons. The amount of information given depends on the user however the less information is given the more difficult is the support in case of troubleshooting. [19]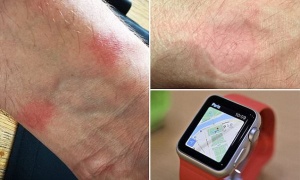 Health Risks
Wearing Apple Watch may cause skin rash to people who are sensitive to materials used in bands which contain traces of Nickel and Methacrylates. [20] Company Apple Inc. advises to wear the watch that way that you feel comfortable. They warn that tightly worn watch could cause irritation and loosely worn watch could cause skin damage. [21]
Enhancement/Therapy/Treatment
The Watch checks three things: Stand, Exercise and Move. If you are sitting for a long time, the Watch points out you should stand up and walk around. The move accounts to how many calories you burnt during the day. The exercise watches your daily activity like running, yoga or fast walking and the goal is doing some kind of exercise for 30 minutes a day. This helps you keep track of your daily workout.[8] It has been proven by the research company Wristly that Apple Watch users are taking up more sport and making healthier choices. Beside the faster communication Apple watch also offers its users the possibility to concentrate on fitness and well being. Apple watch can have effect on your health, exercise and lifestyle. Many responses indicate that the Watch is helping many people on their journeys for better health. Over 78% of respondents agreed or strongly agreed that since getting the Watch, they are more aware of their overall health. In addition, many of them have already made changes with 78% of them agreeing or strongly agreeing that they have more physical activity, 67% that they walk more, 57% that they exercise more and 59% that you make better overall health choices. [22]
Public & Media Impact and Presentation
Apple demonstrated new features of Apple Watch in March during a presentation in San Francisco. Journalists, bloggers, and Apple employees were eagerly awaiting the Apple CEO Timothy D. Cook to announce new Apple Watch.[23] After the launch of the Watch, many opinions raised. Farhad Manjoo wrote for New York Times about his first three days with the Apple watch. However after he overcame the first difficulties he described how he fell in love with them.[24] Vanessa Friedman has had a different experience and also opinion. In the article from New York Times, she describes why she return Apple watch. One of the many reasons why she didn't like them was that she couldn't talk to the watch worn on the wrist.[25] Despite all of this Apple is a luxurious brand and it customizes its products for famous people such as Karl Lagerfeld, who has the most expensive all-gold version Watch for 25 000 dollars. As he once said himself he is obsessed by Apple's devices. For examples, he has 4 iPhones and 20 iPads. [26]
Public Policy
All public policy expenditures are reported to the Apple Board of Directors and reviewed annually by the Audit and Finance Committee of the Board.[27]
Related Technologies, Project or Scientific Research
Apple Watch are connected and synchronized with the iPhone. Everything is shared due to the application Watch in the phone. A new Apple Watch Hermès, which is a collaboration between Apple and luxury French accessories maker Hermès. The new addition to the Apple Watch family was launched on 9 September 2015, exactly one year after the range was originally revealed and costs from $ 1100. [2]
References