Servox
From HCE Wiki - The Human Cognitive Enhancement Wiki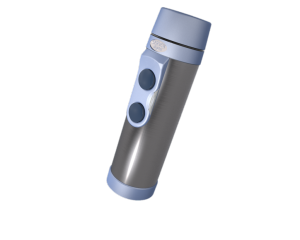 Servox digital is an electrolarynx device manufactured by a German company Servona GmbH.[1] This speech technology is aimed towards patients after total laryngectomy who lost their natural ability to produce voice.
Main characteristics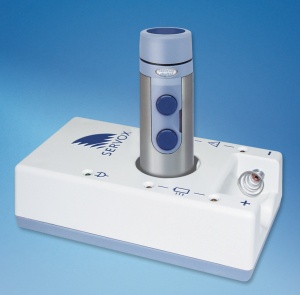 Servox is a cylindrically-shaped device that weights approximately 150 grams (batteries included) and is 12 cm in lenght. The device is usually controlled by one hand while the thumb operates the two buttons that turn the device on and off, and also has a thumb wheel that controls the volume. The user can set and save two settings (volume, pitch) presets and save them to and recall them through one of the two on/off buttons. The devices uses one proprietary and replaceable 8.4 V NiMH rechargeable battery. The battery state is monitored by a LED light that lights up when the battery is close to being depleted.[2][3][4]
Servox can be connected to a personal computer via a serial connection. Custom Digital Data Communication software kit is needed to access and tune the device. Both are available separately through associated dealers.[5]
Price of the device fluctuates between 770 to 1000 USD. (February 2016)
Purpose
Servox electrolarynx is a speech aid device directed towards laryngectomees that have lost their ability to produce speech. The usage of an electrolarynx allows them to communicate in a quick and natural manner without resorting to other means such as pen and paper.
Company & People
Servox is being developed and manufactured by a German medical technologies company Servona GmbH that is based in Troisdorf, Germany.[6] The company does has not indicated the date it was established.
Important Dates
The company does not inform about any important dates that would be relevant to the company's history or the devices it manufactures.
Enhancement/Therapy/Treatment
Treatment - Servox is a device that partially replaces the functions of a larynx. Electrolarynxes are meant to return the ability to communicate by voice for laryngectomy patients.
Ethical & Health Issues
There are no ethical or health issues connected to this particular device.
For more general issues connected with smartglasses, please see the Electrolarynx synopsis.
Public & Media Impact and Presentation
We recorded no user or other reviews for the device.
Public Policy
Servox speech aid is listed in the U.S. Food and Drugs Administration catalogue.[7]
Related Technologies, Projects or Scientific Research
There are no related projects or research relevant to this device specifically.
For more information about this type of devices, please see the Electrolarynx synopsis.
References